THE EXHIBITIONS
---
THE 2017 WORLDCON 75 - HELSINKI WORLD PREMIERE AND EXHIBITION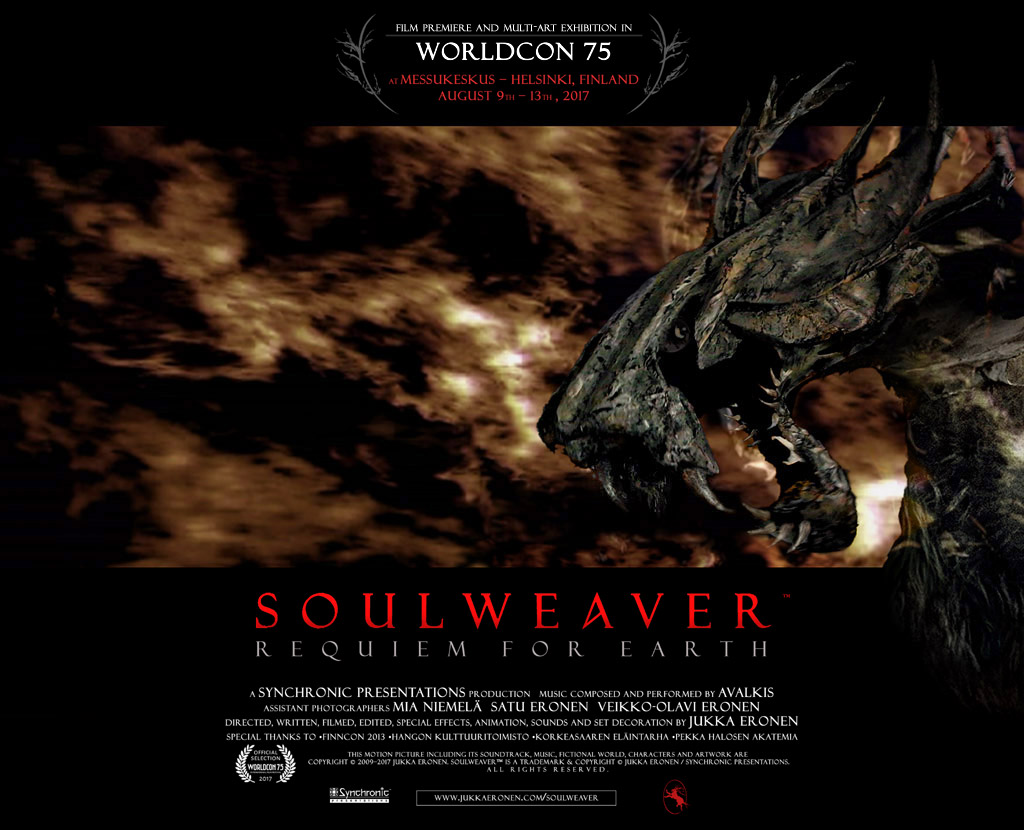 "SOULWEAVER: Requiem for Earth" Film Premiere
at world's greatest Sci-Fi convention
Worldcon 75 in Helsinki Finland - Messukeskus Expo & Convention Centre – Thursday, August 10th 5:15 PM.
Warmly welcome!
Also a multi-art exhibition will be held at at Worldcon 75 on every day in the Exhbitions Hall;
August 9th–13th 2017
.
Stay tuned with
the official blog
and
Facebook page
!
Soulweaver: Requiem for Earth
- Final 2017 Trailer (MP4, 2:46, 75 MB):
---
THE HELSINKI JULY 2013 EXHIBITION AT FINNCON 2013
"SOULWEAVER" exhibition at Helsinki Cable Factory on July 5th – 7th, 2013 at
FinnCon 2013
fantasy & Science-Fiction conference. Cable Factory Gallery.
---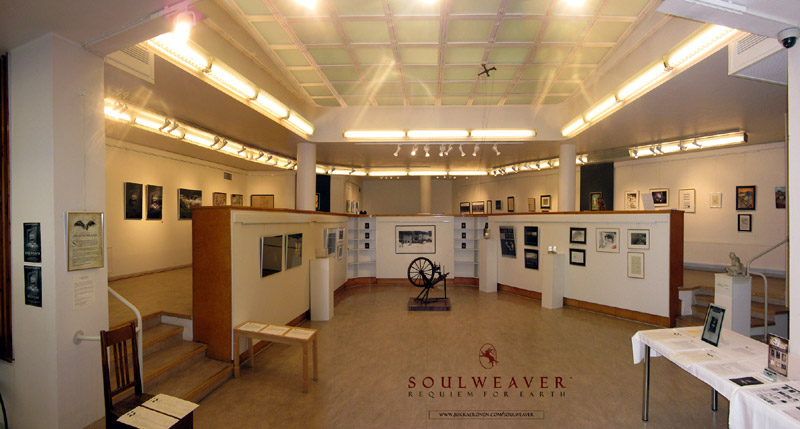 THE HANKO 2013 EXHIBITION
"SOULWEAVER Multi-Art / Film Exhibition" at Hanko town gallery in June 2013, Finland.
Warmly welcome to the opening on Tuesday 4th of June, 2013 at 17–19 PM!
Exhibition is open from June 4th – 23rd, 2013. Mon–Fri 10–19 PM, Sat–Sun 12–17 PM.
Address: Raatihuoneentori 5, 10900 Hanko, Finland.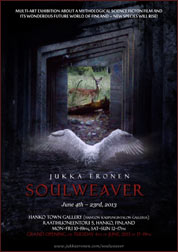 "Soulweaver – The Exhibition" features photographs, illustrations, paintings, graphic works, installations, ambient and classical music, posters, world maps, poems, short story sample – and the first 10 minutes of the upcoming film itself!
The other part of the exhibition focuses on comic books and other art by Eronen.
Soulweaver Exhibition - Facebook Event Page
http://www.facebook.com/soulweaverfilm
Soulweaver Official Website
Artworks/photographs/film/music/texts: JUKKA ERONEN
(e-mail)
.
Assistant photographers: SATU ERONEN, MIA NIEMELÄ, VEIKKO-OLAVI ERONEN, HOWARD FELDMAN.
Publicity: MERJA KUKKONEN, TUIJA KÄYHKÖ.
Thanks to the Hanko Culture Office for an art grant.
"Soulweaver" on June 2013 at Hanko,
Finland – exhibition poster.

---