The development on Babylon 5: In to the Fire - The Ultimate Space Combat Game (a.k.a. Babylon 5 Combat Simulator) started in 1998 by Sierra FX, Yosemite Entertainment and Warner Bros. Unfortunately Sierra cancelled the game and laid off the development staff in September 21st 1999.

Although the game never made it, some merchandise items were produced. These included f.ex. a prototype flip box, a poster, a 3D lenticular mouse pad, a wrist watch and a magnet.

Christopher Franke composed new music for the game and two tracks of it can be found on The Official Guide to Babylon 5 (released in 1998).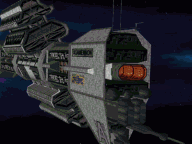 Firstones.com used to have the official Sierra's Babylon 5 game site (www.b5games.com) saved in almost its entirety, but unfortunately these days the site is down. There were f.ex. lots of info, screenshots and movie trailers of the game.

Here's the ad blurb:



"You don't have to be a Babylon 5 fan to enjoy this epic game of combat and strategy. A space combat simulator destined to surpass all predecessors with extraordinary graphics, patent pending inertial flight mode, and ships based on the TV show's original digital models. Intense game play features real-time, 3D, first person space combat. Fight in the Starfury and Thunderbolt while encountering over 60 unique Earth Alliance and alien ships, or test your mettle aboard alien fighters in the robust multi-player mode."


See here for more prototype game box art.