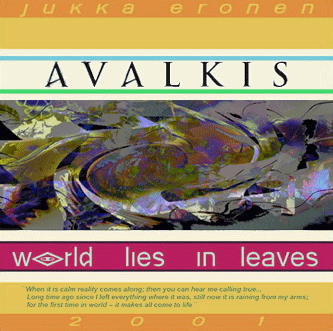 This is one of my most psychedelic songs from 2001. Yet coherent in melody. I used to play around with unconventional various rhythms; I'd like to get back there.
I have called this style of my music from this period as "Renewing Power Experience".
From the album World Lies in Leaves (2001). This is the first time I publicly release this song on my web page.
This song was on my Narcosis the Cat Meets the Flapsticks comic book album's (2010) music CD as When It Is Raining from My Paws. The CD companion featured ambient, avantgarde and psychedelic music to be listened to while merging into the comic book fantasy world.
---
Part 1: When Reality Comes Along
Part 2: Did It Come to You
` ` When it is calm reality comes along; then you can hear me calling true… Long time ago since I left everything where it was, still now it is raining from my arms; for the first time in world – it makes all come to life. ´ ´
Song and poem lyric © 2001 Jukka Eronen