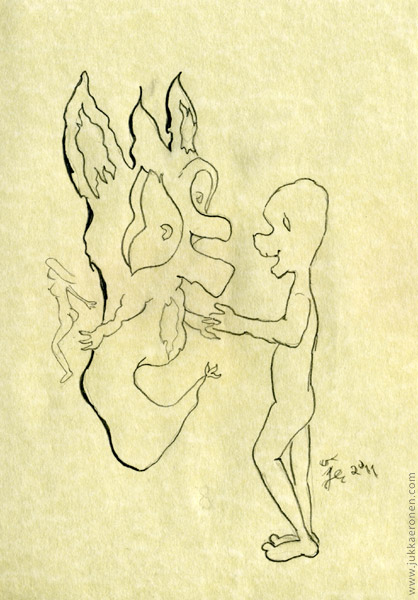 Apokryfia is my poetic series of graphic novels and comic strips. Graphic poems, if you will. The illustrations, visions and ideas often start from my sketch books that I've had as visual diaries since 2009. I usually carry the newest book with me wherever I go in case of wanting to draw an idea down.
The story of Apokryfia – Venus and the Dream Machine: it all began with a singular dot. In 2011 I decided to make a metamorphing or animating drawings out of sketch book #6 (Zeta).  I wanted to see out of curiosity what kind of visions would happen along the way from such small beginnings.  Meaning, in the 110 pages the images slowly transform and animate into the next image. Happenings and characters appear and disappear. It starts and ends with a dot.
Here is the final 8 page result as of 2017 when I drew and constructed the final graphic novel / comic strip. This was the core of it but there is additional left-over material that I might publish some day too. Especially if I hear interest from You, dear readers.
Everything you're about to see and read is from my imagination without outer stimulants. Everything was improvised. (Except for the final color image that was partially inspired by the graphics of 1980s version of a Finnish cherished board game from the 1950s.) Now let us begin.
As a suggestion here's a perfect psychedelic companion musical piece for listening while reading – Avalkis: When It Is Raining from My Arms (2001):
---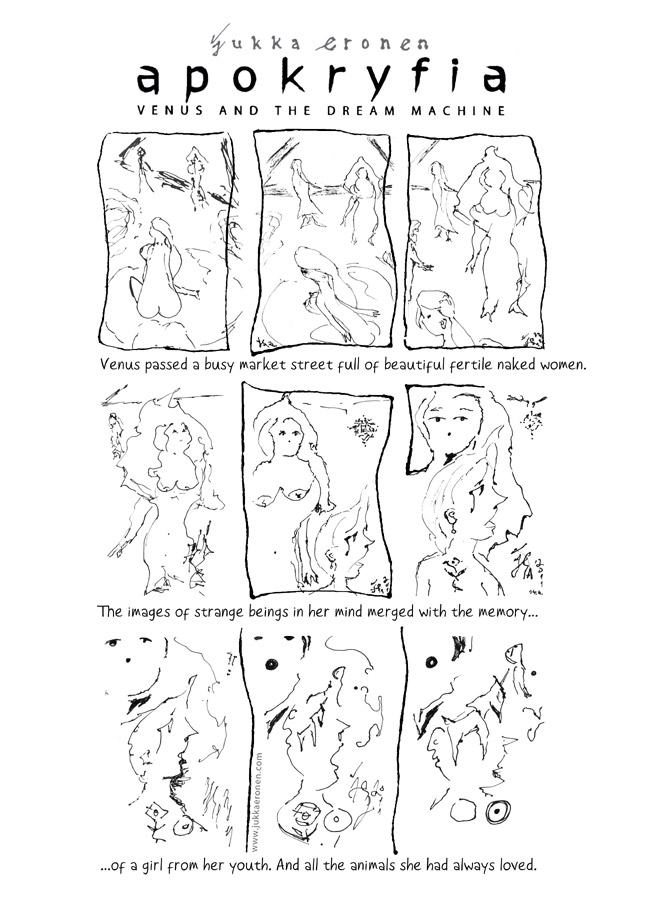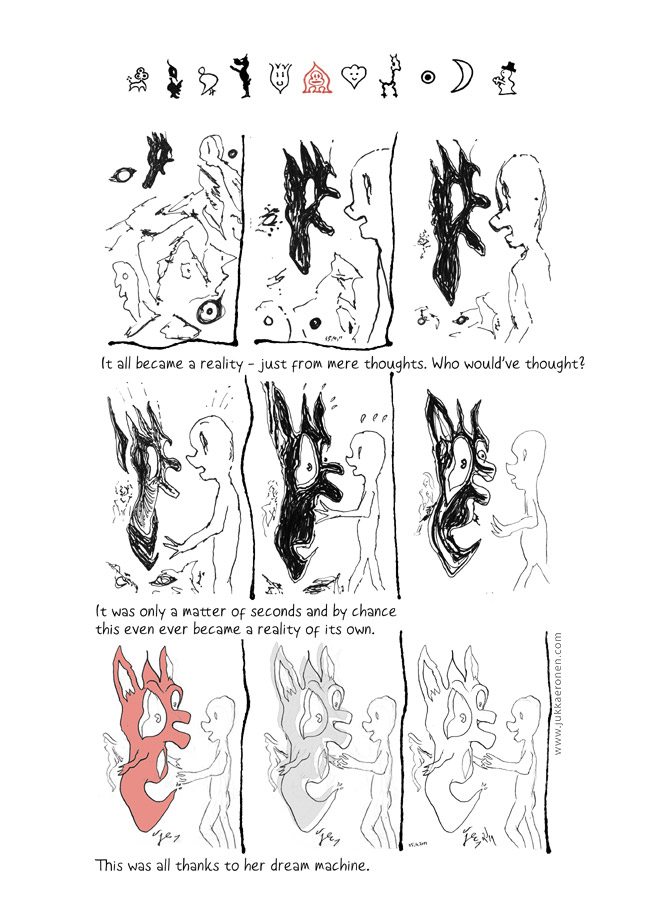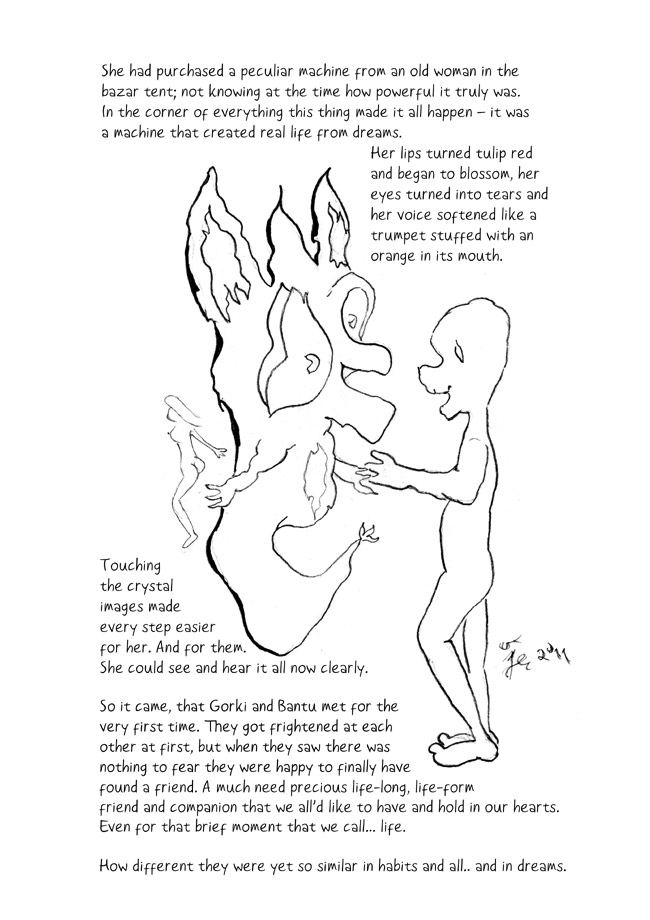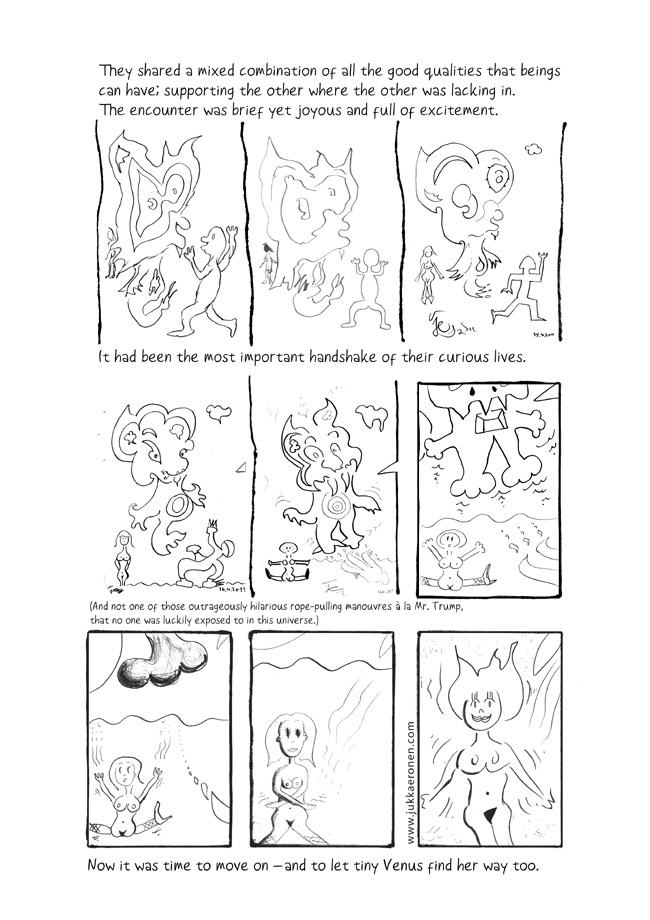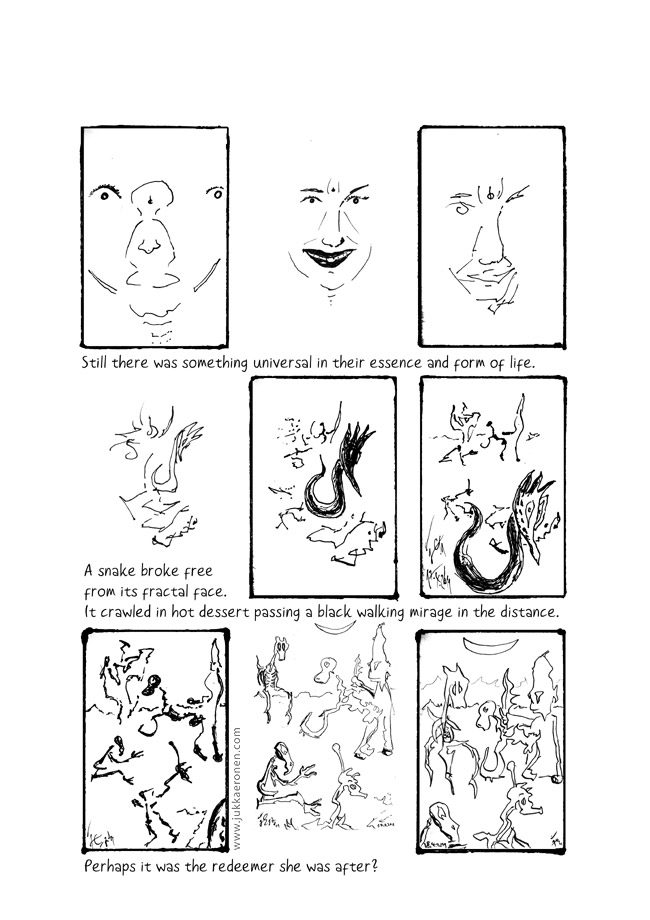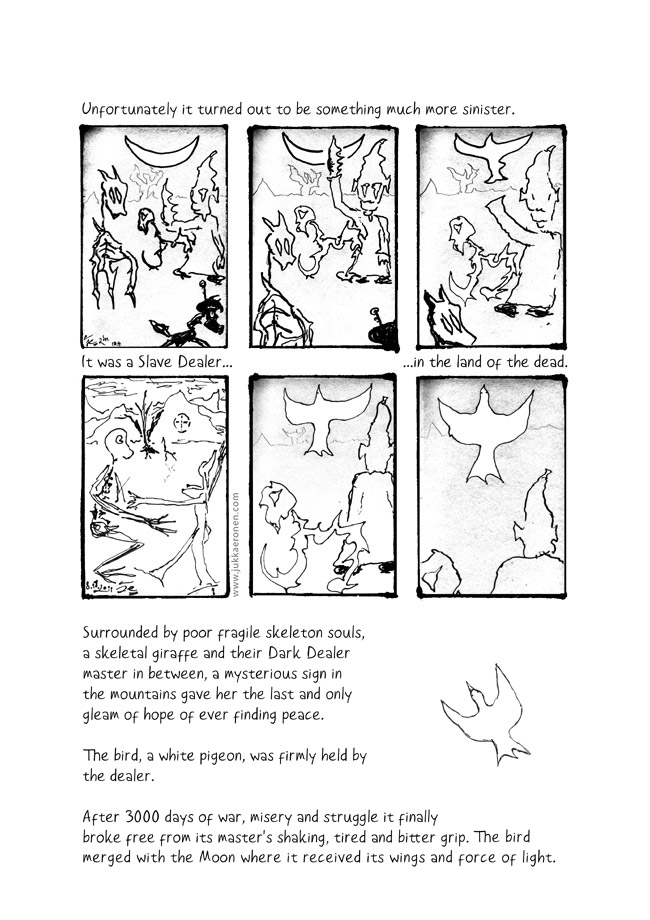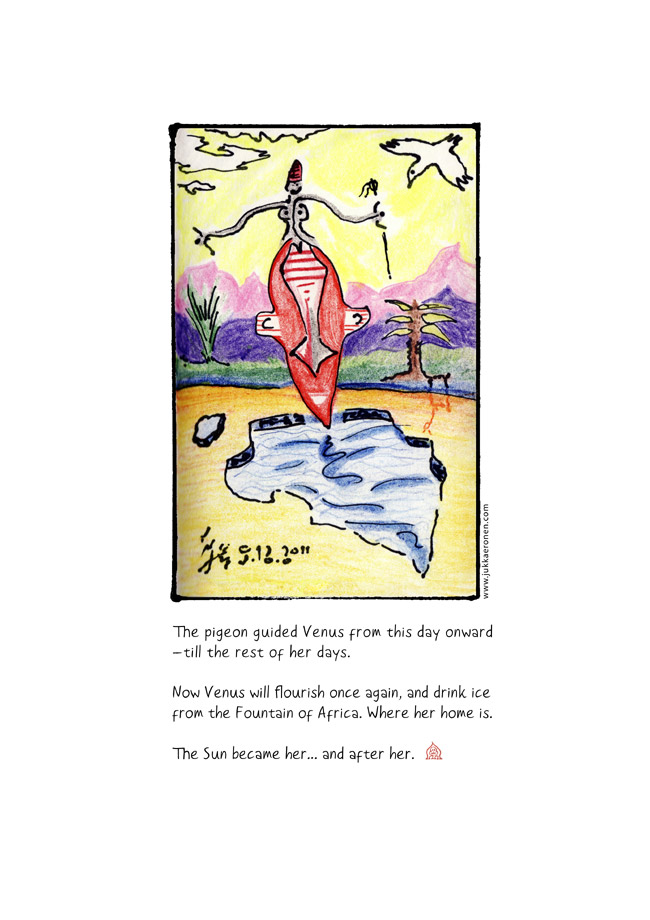 ---
The graphic novel as a short story poem:
Avalkis: VENUS AND THE DREAM MACHINE        Poem © 2017 Jukka Eronen
Venus passed a busy market street full of beautiful fertile naked women.
The images of strange beings in her mind merged with the memory of a girl from her youth. And all the animals she had always loved.
It all became a reality – just from mere thoughts. Who would've thought?
It was only a matter of seconds and by chance this even ever became a reality of its own.
This was all thanks to her dream machine.
She had purchased a peculiar machine from an old woman in a bazar tent; not knowing at the time how powerful it truly was.
In the corner of everything this thing made it all happen – it was a machine that created real life from dreams.
Her lips turned tulip red and began to blossom, her eyes turned into tears and her voice softened like a trumpet stuffed
with an orange in its mouth.
Touching the crystal images made every step easier for her. And for them. She could see and hear it all now clearly.
So it came, that Gorki and Bantu met for the very first time. They got frightened at each other at first, but when they saw there was nothing to fear they were happy to finally have found a friend. A much needed precious life form companion — a lasting friend that we all would like to have and hold in our hearts. Even for that brief moment that we call… life.
How different they were in appearance yet so similar in habits and everything else… and in dreams. They shared a mixed combination of all the good qualities that beings can have; supporting the other where the other was lacking in.
The encounter was brief yet joyous and full of excitement. It had been the most important handshake of their curious lives.
(And not one of those outrageously hilarious rope-pulling manoeuvres à la Mr. Trump, that no one was luckily exposed to in this universe.)
Now it was time to move on – and to let the tiny Venus find her way too.
Venus grew bigger and bigger, and swam to the shore of emptiness. Surprisingly she met Mr. Ambivalent there — a curious featureless fellow from Mars, that she tried to greet. But missing mutual language they didn't really understand each other…
Still there was something universal in their essence and form of life.
A snake broke free from its fractal face. It crawled in hot dessert passing a black mirage walking by in the distance.
Perhaps the image belonged to a redeemer she was after?
Unfortunately it turned out to be something much more sinister. It was a Slave Dealer in the land of the dead.
Surrounded by poor fragile skeleton souls, a skeletal giraffe and their Dark Dealer master in between, a mysterious sign in the mountains gave her the last and only gleam of hope of ever finding peace.
The bird, a white pigeon, was firmly held by the dealer. After 3000 days of war, misery and struggle it finally broke free from its master's shaking, tired and bitter grip. The bird merged with the Moon where it received its wings and force of light.
The pigeon guided Venus from this day onward – till the rest of her days.
Now Venus will flourish once again and drink ice from the fountain of Africa.
Where her home is.
The Sun became her… and after her.