Soulweaver: Requiem for Earth™ (PG-12) is an upcoming epic Finnish science fiction short film set in future Finland circa 3000 A.D. It is a mythological, poetic and dream-like journey to apocalyptic visions of past and future Earth. The fabric of reality, memories and dreams intertwine in the last days of our once flourishing planet. Man has destroyed himself and most of the planet. The surviving nature, animals and new species are living in the shadow of ruins and dying Earth; trying to make it in harmony. Something otherworldly is in the air.
A short story based on the Soulweaver film is in the works. It is to deepen the world and to enhance the experience of the film. It also features concepts, scenes and happenings that couldn't be realized in the film with zero budget. However it is still a work of its own and can be read separately without seen the film.
The book of the short story will feature alternative endings, poems, illustrations, maps and appendiced on the world of Soulweaver.
The book will be published in Finnish digitally. Here are the beginning two chapters in Finnish.
Here's the classical and symphonic orchestral main theme music from the film as a 2016 dark rendition:
---

Tulevaan Sielunkehrääjä™-elokuvaan ja sen maailmaan perustuva lyhyt novelli on tekeillä. Sen tarkoitus on syventää kokemusta ja taustoittaa tapahtumia. Novelli myös pitää sisällään ideoita ja kohtauksia, joita en pystynyt budjettisyistä tai taidemuotojen erilaisuudesta johtuen elokuvassa esittämään. Novelli on samalla itsenäinen teos ja sen voi lukea erikseen.
Sielunkehrääjä (K12) on tulevaisuuden Etelä-Suomeen noin tuhannen vuoden päähän sijoittuva eeppinen tieteiselokuva. Elokuva on mytologinen, runollinen ja unenomainen matka post-apokalyptisiin maisemiin. Maan todellisuus, muistot, unet, mennyt ja tuleva kietoutuvat toisiinsa. Ne kehräävät elämän ja kuoleman haurasta lankaa maailmassa, jossa ihminen on tuhonnut itsensä ja suuren osan Maasta. Osa kasveista ja eläimistöstä on säästynyt tuholta. Eläimet ja uudet kehittyneet lajit ovat nousseet raunioiden ja tuhkan keskeltä planeetan herroiksi. Tarina kulkee ajassa maailmankaikkeuden synnystä Maan viimeisiin päiviin ja uuden ajan sarastukseen.
Kirja tulee sisältämään vaihtoehtoisia loppuja, runoja, kuvituksia, karttoja ja tietoa Sielunkehrääjän maailmasta, kasvillisuudesta ja eläimistöstä. Kirjasta tulee suomenkielinen digitaalinen painos.
Tässä on Sielunkehrääjä-elokuvaan liittyvän tieteisnovellin kaksi ensimmäistä lukua suomeksi, olkaa hyvä. Jos kiinnostuit tai pidit lukemastasi, olisi mukava saada palautetta ja kommenttia :).
Tässä on elokuvan soundtrackin klassis-sifoninen orkestraaliteema "vuoden 2016 tummasävyisenä versiona", jota suosittelen esimerkiksi novellin taustakuunteluun.
---

---
PROLOGI  •  VUOSI 2839
OODI PIMENTYNEELLE AURINGOLLE

uringosta ja Kuusta Maa näytti vielä niin siniseltä. Maa oli kuitenkin odottanut tulevaa jo pitkän aikaa; pian koitti sen hetki. Luonnon oma muisti sai aikaan väläyksen alkumerestä ja kaukaisista huomisen näyistä. Aurinko pimenisi, meret jäätyisivät. Vuoret kaatuisivat. Kuitenkin, vuosisatoja kaikkea tätä ennen, ihminen oli tuhonnut itsensä. Elämää kuhisseen Maan kaupungit olivat raunioina. Ihmisen perintönä oli nyt kuoleva maailma. Meret olivat haihtumassa. Joillakin alueilla eläimillä, kasveilla ja puilla oli onnea selvitä tuhosta, joskin jotkin niistä olivat kokeneet mutaatioita. Nopeaa evoluutiotakin oli tapahtunut.
Eräänä päivänä auringonpimennys loi varjonsa vielä hengissä taistelevien olentojen ylle. Auringon pimensi jokin muu kuin rakas Kuumme. Tämä taivaankappale keräsi ihmettelijöitä osakseen ympäri pohjoisen Maan. Se hehkui näkymätöntä valoa ja sen hiukkaset kimmelsivät ja hohtivat tuulessa.
Elettiin Maan viimeisiä päiviä. Oli uuden alun aika. Jotain kaunista ja suurta oli ilmassa…
---
LUKU I •  VUOSI 3152
KAURIS

li alkukevät. Sadepisarat kimmelsivät lehdillä. Pisarat kerääntyivät isommiksi pisaroiksi ja tippuivat hiljakseen maahan tai alemmille lehdille, muodostaen uusia pisaroita. Aivan kuin aika olisi hidastunut noiden pisaroiden muodostuessa ja pudotessa. Maassa niiden pärske kasteli yllättyneen muurahaisen. Kaikkialla oli jo alkanut versota ja jopa hieman kukkia jotain kaunista. Puissa oli pieniä vaaleanvihreitä poimuja. Tuuli tuiversi oksia ja edellisvuoden kuivia, edelleen pystyssä olevia oljenkorsia. Eräässä koivussa oli vielä lehdetkin jäljellä, koska talvi oli tullut niin nopeasti ja pitänyt ne jäisessä horroksessaan.
Metsä oli hengittänyt tulta joitakin aikoja sitten ja oli nyt syntynyt uudelleen tuhkasta, entistä ehompana ja vahvempana. Metsässä oli ränsistynyt vääntynyt puurakennelma. Kun tällä hiiltyneellä kasalla oli vielä aikoinaan ollut jollekin elävälle tarkoitusperä ja selkeämpi muoto, se oli luultavasti toiminut jonkinlaisena suojana. Tuon suojan vieressä seisoi nuori heiveröinen ja solakkarakenteinen kauris. Sillä oli nälkä. Syötäväksi kelpaavaa ravintoa oli niukasti tällä alueella. Tuli oli pitänyt siitä huolen. Maa oli tosin muodostumassa aiempaakin ravinnerikkaammaksi, mutta se veisi vielä aikaa. Kyseisen kaurislajin ruokavalio oli muotoutunut vuosien saatossa hyvin tarkaksi kasvillisuuden suhteen. Mikä tahansa ruohon korsi tai apilan kukka ei olisi sen vatsassa sulanut. Erikoistuminen auttoi välttämään kasveja, jotka olivat säteilylle alttiimpia ja näin haitallisempia terveydelle, mutta samalla se toi mukana omia haasteitaan. Helpotusta vallitsevaan tilanteeseen ei myöskään tuonut viileä ja utuinen ilma. Sumu sankkeni eikä enää oikein voinut olla varma minne voisi turvallisesti astua.
Lyhyt kesä meni siivillä. Talvi alkoi jälleen tehdä tuloaan. Maa tärisi lievästi. Kauris tunsi jotain; se ei ollut ainoastaan tuo tärinä. Se katsoi kaukaisuuteen hetken, teki päättäväisen loikan alas rinnettä kohden ja lähti seuraamaan vaistojaan. Edessä aukeava valtava pelto odotti sitä ensimmäisenä etappina. Pimentynyt aurinko, himmeät tähdet ja jokin kuvailematon olivat sillä seuranaan ja oppaanaan. Kauris tiesi nyt minne sen oli suunnistettava. Taivaan kannessa välkehti lentotähtiä. Niissä olisi voinut nähdä oman heijastuksensa, jos niin korkealle olisi yltänyt. Niin pitkä ei kauriin kaula kuitenkaan ollut, vaikka se uljas näky vielä tulisi olemaankin. Kauriilla oli pitkä ja uuvuttava, mutta tärkeä ja toiveikas matka taivallettavanaan…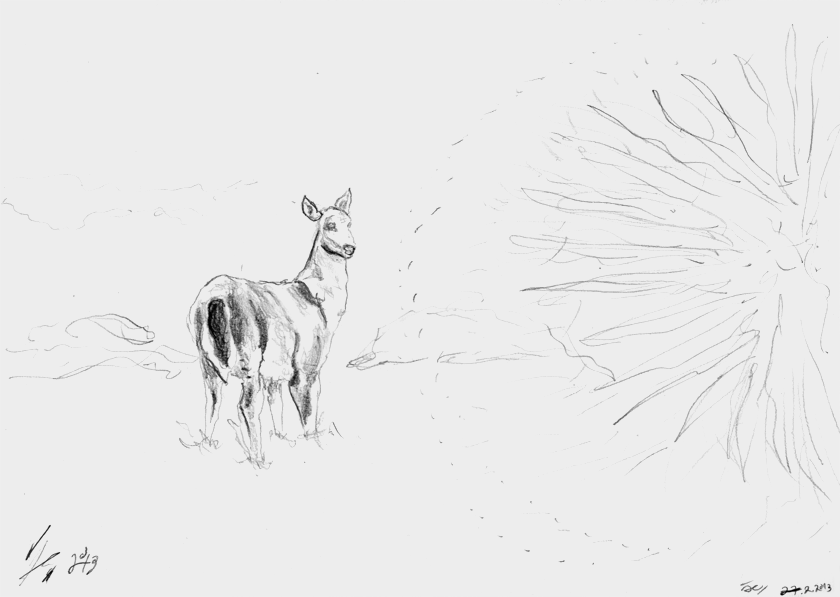 Kerran, unta mä näin
Olit valoa, joka elämän Kevääseen ikuiseen toi
Heräsin varjoihin auringon pimentyneen
Oliko se vain mielessäin vai näinkö muistollemme käy
Kerran, huomiseen näin
Kuin tuuli, sydämein muuttuu ain'
Silti sieluni sylissäs' herää
Tunne lumi keväinen, se valkea kuin silmäin on
Nyt silmin sokein, en talvea Keväästä erota
---
Sielunkehrääjä © 2009–2016 Jukka Eronen. All rights reserved.
Tarina jatkuu…